honorary canon - more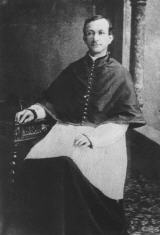 From 23 to 25 October 1876 in St. Quentin was held in the rooms of the Patronages St. Joseph the second Diocesan Congress of Catholic Associations. The meeting - one year after the first one in Notre Dame de Liesse - was substantially prepared by Leo Dehon.

On October 24, during the congress luncheon the new bishop of Soissons, Msgr. Thibaudier, announced that Dehon had been named honorary canon of the cathedral of Soissons. The reaction of the congress is related by the diocesan periodical 'Semaine Religieuse':

"The affected and grateful congress applauded several times. M. Julien - in the name of the friends of the Workers' Associations and M. Abbé Chédaille as a representative of the clergy of St. Quentin expressed towards His Eminence the grateful emotions of the entire congress with regard to the well-deserved dignity, which honors M. Abbé Dehon for all the extraordinary services of our young, eager and sympathetic chaplain for the working class and the youth of Saint Quentin." (Semaine Religieuse 1876, p. 611).

About the dignity of an honorary canon Dehon states in a very cautious manner:
"Congratulations and applause came from everywhere, even from where I would least have expected it. It was a period of successes; the crosses would come later. Some days later I went to Soissons, in order to be introduced there. M. Demissel offered his hospitality. The chapter met. Solemnly and in accordance with the rules one proceeded: procession, oath, speech of the deacon, minutes. Most of the canons were fairly old and I was rather young. I found the ceremony not very pleasing and rather superfluous for a title which was nothing but trifle/bauble. But with a lot of good faith and in all simplicity I prayed a little for the church of Soissons, in which I had become an honorary dignitary." (NHV XII/82)

At the age of 33 Leo Dehon is an extraordinarily young honorary canon, and the reasons that pushed the diocesan administration to such a decision may be object of speculations. Fact is that Mgr. Thibaudier in his previous work was a successful reformer of Catholic studies in Lyon. Only one year after the St. Quentin congress, Mgr. Thibaudier will talk to Dehon about his desire to establish a Catholic high school in St. Quentin, the largest city of the diocese. Thus the title of honorary canon will have served at least to integrate a very well formed and highly esteemed collaborator of the bishop in the diocesan clergy.